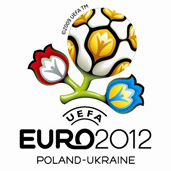 The 2012 Euro 2012 qualifiers resume this week after the usual long international football summer break in Europe.
We are roughly half way through the qualifying process and most big European teams are aiming to secure their participation to the tournament co-organised by Poland & Ukraine asap, hence the importance of this week's matches.
Germany v Austria (kick-off 20:45)
Germany could become the first team to qualify for the Euro 2012 finals if they beat neighbours Austria on Friday.
Joachim Loew's side are unbeaten so far in group A, with seven wins from as many matches, and would seal their spot in next year's competition with victory in Gelsenkirchen.
Mario Gomez will be missing for the tie though, after the striker injured his thigh scoring a hat-trick for Bayern Munich in their 3-0 win over Kaiserslautern on Saturday.
Barring a shock, Germany should have little trouble in booking their place for the tournament in Poland and Ukraine.
The three-time European champions are 10 points clear of second-placed Belgium, and only Turkey, who have a game in hand over the top two sides, could overtake them in the standings.
Loew's men will be hoping to avoid a repeat of their qualifying campaign for Euro 2008 when they won just one of their last four matches and were forced into the play-offs.
Austria, meanwhile, must beat Germany if they are to have any hope of reaching the finals.
But history is not in their favour, with Germany having won the last eight encounters between the two sides, including a 2-1 victory in their last qualifying game in Vienna on June 3.
Prediction: Germany to win. Bet Germany at bookie.
Bulgaria – England (kick off 20:15)
England will be looking for their first win in three matches when they travel to face Bulgaria in Friday's Euro 2012 qualifying.
Fabio Capello's England side were forced to settle for a disappointing 2-2 draw at home to Switzerland in their last qualifier on June 4.
Prior to that, they played out a 1-1 draw in a friendly at home to Ghana on March 29, with their last win a 2-0 qualifying victory away to Wales three days earlier.
England remain top of Group G despite the two points dropped against Switzerland.
They are level on 11 points with Montenegro, who take on Wales in Cardiff on Friday, and cannot afford to slip up if they are to avoid surrendering top spot.
Capello has called on several youngsters who have impressed for their clubs early in the new campaign, with Manchester United's Phil Jones, Chris Smalling and Tom Cleverley all included in the squad.
With Bolton Wanderers defender Gary Cahill also named, it is a measure of the newcomers' impact that former captain Rio Ferdinand and Liverpool fullback Glen Johnson have been deemed surplus to requirements.
The Manchester United connection continues in attack, where Wayne Rooney and Ashley Young are probable starters after their dynamic performances for the Old Trafford outfit.
Arsenal midfielder Jack Wilshere misses out through injury, as does Liverpool's Steven Gerrard.
A finger injury forced the withdrawal of West Ham United goalkeeper Rob Green, to be replaced by Derby County's Frank Fielding.
Bulgaria will be coached at the Vassil Levski Stadion by an old nemesis of England's, former Germany international Lothar Matthaus.
The retired Ballon d'Or winner was in the Germany team that defeated England on penalties in the semi-final of the 1990 World Cup in Italy.
Prediction: Draw. Bet at bookie.
Norway v Iceland (kick off 20:00)
Norway has a great chance to qualify first in Group H, as long as they stay sharp and win the games considered to be "easy" like this one. Why? Because the team has already has won once against Portugal, and lost once, and tied the home game against Denmark. All they have left is a visit in Denmark and the game against Cyprus. Denmark and Portugal on the other hand will have to play each other which puts Norway in perfect position to grab the first spot. The team's record over Iceland reads W15 D4 L6 (W7 D2 L2 at home), however no victory over that team since 1980. In the WC2010 qualifiers both games between those two teams ended draw.
celand takes the last spot in Group H with no chance of qualifying, with 1 point from 5 games. The only point the team has got, was achieved in the away game against Cyprus. Iceland and Norway will soon meet again as they have been drawn together yet again, for Euro 2014 qualifications. In the World Cup qualifications both teams could not beat each other, recording a 2:2 draw in Norway and a 1:1 in Iceland.
If Norway wants to qualify at the top of the group or perhaps for a play-off they must win this game and hope for the best, when visiting Denmark, and finishing off with Cyprus. One things is sure, a victory here and against Cyprus will significantly boost their chances of advances over those of Denmark.
Prediction: Norway to win -1 goal. Bet Norway at bookie.
Hungary v Sweden (kick off 19:45)
Hungary will try to keep their slim chances alive in Group E when they take on Sweden at home in a Euro 2012 qualifying match. Hungary sits in third place in the group with 12 points from four wins and three losses. However, they're six points behind group leaders Holland and have also played a game more than the Dutch. They also have to climb over Sweden, who sit in second place with 15 points from five wins and a loss. Sweden also has a game in hand on the Hungarians.
Both Hungary and Sweden have a shot at taking first place in the group, but it's unlikely as Holland would need to collapse during their last four games to blow top spot. However, Hungary and Sweden still have quite a bit to play for as whoever finishes in second place in this group could qualify for Euro 2012 as one of the best second-place teams. Sweden has a pretty good position right now and will strengthen it with a win in Hungary. However, a loss would see the two times level with 15 points each.
In their last three games against each other Sweden has won all of them, by scores of 2-1 away, 2-1 at home, and 2-0 at home. The last meeting, which was 2-0, was played almost a year ago to the day, on Sept. 3rd last year and was a Euro 2012 qualifier. The other two games were 2010 World Cup qualifiers.
Hungary has won three and lost two of their last five games in total. Their last match, on Aug. 10th, was a 4-0 home win against Iceland. They won away 3-0 at San Marino in a Euro qualifier in June and beat Luxembourg away 1-0 in a friendly, also in June. Their previous two games were both losses to Holland in Euro qualifiers, 5-3 in Holland and 4-0 at home.
Sweden has won all of their last five games. These were a 1-0 win away to Ukraine on Aug. 10th as well as three Euro qualifying wins, which were 5-0 at home over Finland, 4-1 in Moldova, 2-1 at home against Moldova, and a 2-0 away win against Cyprus in a friendly.
Prediction: Draw. Bet at bookie.