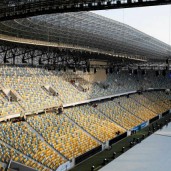 200 days before the beginning of the European Football Championship UEFA sees progress in Ukraine in preparations and has no significant objections to the preparations – said Markiyan Lubkivskyi, director of the Organizing Committee of the Euro 2012 at a press conference in Kiev. 'We will do everything to make next year's tournament the best event' – he stressed.
The greatest achievement of the past hundred days, mentioned by Łubikowski, is completion of stadiums in Kiev and Lviv. At these stadiums first matches have already been played.
– They have proved that all four stadiums (in Ukraine) will be ready for the Euro 2012. In a short time all defects that were listed in reports after opening of these facilities will be removed. Test matches have shown what changes and improvements are needed – mentioned Łubikowski.
Matches of European Championships (8 June – 1 July) will be played at eight stadiums. These are: National Stadium in Warsaw, PGE Arena in Gdansk Municipal Stadium in Poznan, Wroclaw Municipal Stadium, Olympic Stadium in Kiev, Donbass Arena in Donetsk, Metalist Stadium in Kharkiv and the new stadium in Lviv.