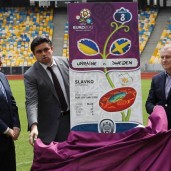 In Ukraine we still didn't manage to sell 50 thousand Euro 2012 tickets – UEFA informed on Monday, adding that not only high accommodation costs are to blamed for this situation. In Poland there are almost no tickets for matches available.
– In Poland we are basically sold out. In Ukraine we still have around 50 thousand tickets, confirmed Pedro Correia, a UEFA official, responsible for all ticket-related issues.
– It's no secret that demand was far higher in Poland than in Ukraine, he added.
Euro 2012 kicks off on June 8 in Warsaw and ends with the final in Kiev on July 1.
The Ukrainian tourism sector has been accused of attempting to use the opportunity and setting definitely too high prices for very poor quality accommodation, what proved to be discouraging for football fans.
UEFA chief Michael Platini, who visited Ukraine in April, told angrily about "bandits and crooks".
Troubles involving accommodation are accompanied by problems concerning getting to some of the locations where matches are to be held. A really poor communication with Donetsk also impacts the very moderate number of fans willing to go there to watch the match.
On June 11, England is playing in Donetsk their group opener with France. The passionate English fans that normally should have already bought all tickets available for them have purchased only half of the 7,000 entrance tickets available for them so far.
– Concerning Ukraine, the results are really good, explained Correia. We are talking in fact about 1.4 million tickets, and only 50 000 of them are left.
– For sure, it has to do with different reasons, probably the economic situation in Europe, the cost of travelling, the cost of accommodation, he added.
Correia doesn't worry about tickets purchasers and explains that it is not the first such case in the history.
– Usually our target is 95 percent of the tickets sold, because it's almost impossible to have 100 percent, he told. In the past, at Euro 2008 in Austria and Switzerland, we also sold around 60,000 tickets at the last minute. So it's not out of the ordinary.