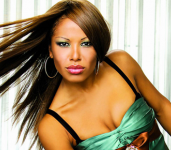 Everybody is getting ready for UEFA EURO 2012: Doctors are learning English, and Gaitana wrote an anthem for Euro 2012. Song of Gaitana calls Ukrainians to unite all the people around the championship.
Gaitana plans to perform the new song in several versions, as a solo artist and with the Friends of the euro championship. Gaitana received the titel of an official Friend of the Euro-2012 in early July.
By becoming a Friend of Gaitana has promised not to get bored, and kept her promise. She writes songs adedicated to the future championship. Song from a very patriotic name "Ukraine! Bud'mo!" Gaitana presented August 24 during the celebration of the 20th anniversary of Ukraine's Independence on Independence Square. In the near future Gaitana plans to shoot a video for this song.