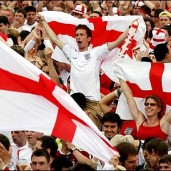 You had no luck in the draw for tickets for the Euro 2012? Nothing is lost. You can buy them legally – 3-match package for group meetings costs 12000 PLN.
Ticket draw was held in April. For about 575 thousand tickets nearly 12 million people around the world were interested. Who did not have luck may still expect the next draw. Federations of countries participating in the Euro 2012 will receive 16% of tickets for each match of their team. When it comes to the Polish national team there will be about 6500 tickets for matches in Wroclaw and Gdansk and about 8000 for Warsaw. Given that a large number of these tickets will go to the "football family" fans will still have 10 000 tickets.
The chances are small but no one has to wait for the draw. There are tickets that you can buy legally off-hand. These are tickets in the Gold and Platinum packages. The first ones offer places in the business area and the second ones in the VIP area. You can buy them in several configurations, depending on whether we want to see only group matches, or – in case of stadiums in Warsaw and Gdansk – matches of the knockout stage.
Gold packages are sold best in Warsaw and Wroclaw. Gold Packages give, inter alia, access to a special business zone and the place with the access to a bar and buffet, waiter service, catering, selection of the best wines and parking passes. At the National Stadium there are about 4600 business places., 1400 in Gdansk, 1100 in Poznan and 1600 in Wroclaw.
The price of Gold packages for three matches amounts to 2900 EUR (In Warsaw 3400 EUR.), for four matches – in the case of Gdansk (group and quarter-final matches) – 4950 EUR and for five matches in Warsaw (group, quarterfinal and semifinal matches) – 7850 EUR. These are bearer tickets, that is why for every match may come someone else – explains Raphael Molski from UEFA Events.
Although the offer is addressed mainly to companies, private persons may also use it. Do you dream to see at least one match for the Euro 2011? You need about 4000 PLN and two similar enthusiasts with whom you will buy a 3-match package.
For the richest fans there are Platinum packages with VIP seats. Such a package for all matches in Poznan or Wroclaw costs 5200 EUR, in Gdansk 8800 EUR and in Warsaw 13400 EUR. Platinum packages are selling like Gold ones.
The most expensive package offered is the so-called Platinum Plus. For about 4 million PLN it gives the buyer a 24-person seat for exclusive use during all matches played in Poland and the finals in Kiev. In total, there are 384 tickets. This offer is addressed only to the world's largest corporations. The average cost of one ticket is over 10 000 PLN.