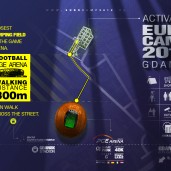 Activator Camp 2012 is Activator Camp 2012 has been created especially for all active supporters who do not want to miss a wonderful atmosphere of Euro 2012 even for a moment. The campsite is located in Gdansk, just 300 meters from the PGE Arena stadium, and will be fully accessible for all football enthusiasts.
The main organizer of the campsite, RB-Group, is already well known on the hospitality scene in Tri-City (urban complex of three cities: Gdansk, Sopot, Gdynia) having several lodging places like Plac Rybakow INN or Central Hostel, which is currently one of the most flourishing hostels in the center of Sopot. Activator Camp 2012 is operated by one of the first Polish on-line travel agencies – Aktywator. Aktywator sells and organizes cultural and tourist attractions in the north of Poland. Activator Camp 2012 will offer its guests comfortable double tents with mats as well as high quality sanitary facilities. Dedicated Activator Team will take care of all of the guests' needs.
The Activator Camp 2012 has one of the best locations from available accommodation options as it situated in close proximity from the football stadium (5 minutes' walk) and many convenient transportation options (3 minutes from the railway station and bus stops). The campsite offers its guests a wide range of additional services. Onsite beer gardens will warm up joyful atmosphere for supporting your team. Catering stands will increase the comfort of waiting for the major sporting event of this year. 24-hour security and deposit area will ensure your safe stay at the camp. The presence of the 'entertainment and leisure zone' and the 'match zone , which will be broadcasting football matches, will provide most fun and excitement.
Activator is creating special tourist packages that will give foreign visitors the chance to get to know Polish culture and tourist attractions, making your stay even more enjoyable, hoping that you will want to stay in Poland a bit longer. Packages will be available for purchase on site or on-line at www.e-activator.pl from the beginning of May 2012. In order to attract tourists Activator Camp 2012 implements special pricing policy including massive price reduction for match night's stays and further reductions during the rest of your stay. In the first round of the sales prices per person staying in a tent for two are as low as: match nights – around 26 Euros, nights +1, -1 around 19 Euros and the remaining dates of June around 8 Euros. In addition to competitive pricing, Activator Camp 2012, as the only camp site in Gdansk, offers accommodation with a unique view at the football championships! Activator Camp 2012 – Get in the game!
For more information please check out website: www.e-activator.pl