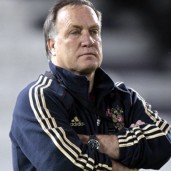 Dick Avocaat, a Dutch selector of the team of Russia, believes that the 2:0 victory over Denmark on Wednesday in Copenhagen means that his team will be very "dangerous" for each participant in the European Championships. The Russian team will be group rivals for Polish football players.
The victory over Denmark gives pleasure to everyone because it is a very strong team. Full control over the game for the first 20 minutes with a scored goal of Roman Szirokow already in the fourth minute may be too short, but all in all gave victory. What I am really happy about is that our team's key player Andrei Arshavin did not only contributed to the score 2:0 in the 45th minute, but was also able to play for the whole 90 minutes – said Advocaat to Ritzau, a Danish news agency.
If during the European Championships our team plays the same way as with Denmark, it will be very hard to defeat us – he added.
The Russian team was praised by Morten Olsen, a Dutch selector of the Dutch team. He stressed that Advocaat relies mainly on the same football players who, during the recent European championships in Austria and Switzerland, managed to get to the semi-finals. "They are a little older, but still strong and dangerous, and, above all, it is a very good team of players well-adjusted to working together, having a similar game style like Germany and the Netherlands.
The Russian team is in the A group and will play a match with the Czech Republic team on 8 June in Wroclaw, in Warsaw on 12 June and on 16 June with the Greece team.