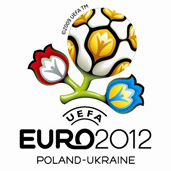 Polish-Ukrainian government contract about the cooperation by common organization of the Football European Championships – Euro 2012 will be signed on 18 April. A minister of sport and
tourisms Mirosław Drzewiecki expressed such belief in the published on Saturday conversation with the Kiev weekly "Dzerkało Tyżnia".
– I would like that the agreement should be signed 18 April, that is year after granting Poland and Ukraine the right to carrying out of finals of the European championships in the football – said. The minister thinks that the intergovernmental agreement about the cooperation in the matter of the organization Euro 2012 should lead to the closer coordination of action of Poland and Ukraine.– We cannot let one country to be late with the realization of its objectives, and second not. Such a situation should not exist – Drzewiecki underlined. The minister explained that the agreement will regulate main issues at the organization of Euro 2012 i.e. the safety of supporters, the medical help, matters of the transport and protection of the intellectual property.
For bringing the document into effect directors of national agencies for Euro 2012, Marcin Herra from the Polish side and Jewhen Czerwonenko from the side of Ukraine will be responsible – we can read in the weekly "Dzerkało Tyżnia".