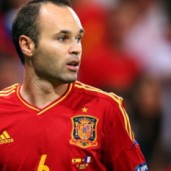 The Spaniard Andres Iniesta has been named the test player of the tournament. He was awarded a prize by a UEFA committee consisting of 11 persons.
The 28-year old Spaniard has been also recognized the best Sunday final match player. After goals scored by Silva, Alba, Torres and Mata the Spanish team defeated Italians scoring 4:0.
"Andrea Pirlo was magnificent; Xavi won the prize at the previous championships and could have repeated that success also this time. Xabi Alonso also played excellently and Iniesta gave a show of creativity,"
said the chief of UEFA technical group, Andy Roxburgh.
During 6 tournament matches Iniesta had one assist (in match with Croatia). He spent 551 minutes on the pitch, took 14 accurate shots (only Ronaldo was better, with 15 shots), 4 inaccurate ones and was fouled 14 times. 75% of his passes reached the partner (350 out of 465).