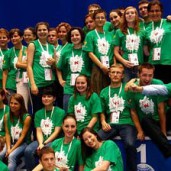 The results of the match played by our football team can be different. However, this does not mean that Euro 2012 will not be successful. Everyone who will be a volunteer can contribute to it. Recruitment has already begun.
I encourage everyone, not just young people, to work for Euro 2012 – says the Mayor Ryszard Grobelny. The opportunity is unique. I am convinced that volunteering is one of the greatest successes of the entire Euro 2012 championships in Poland – he added.
For the first time in the history of the European Championships the host cities decided to recruit volunteers together. Thanks to this, volunteers in Poznan, Wroclaw, Warsaw and Gdansk will have not only the same clothes, but will also participate in the same training activities. Within the program, they will be given food and will be able to use public transport free of charge.
In Poznan, 600 volunteers is needed. The city is looking for people who will help tourists, among others, in the fan zone, in the old town, at park lots and railway stations. Recruitment has already begun. You can register at www.wolontariatmiejski2012.pl.
'We give a chance to everyone who is 18 years old' – says Andrzej Tomczak of the education department of the City Hall. 'We are expecting students, seniors, disabled people, foreigners. Recruitment is open. We are expecting not only people from Poland, but also from abroad. Not every volunteer needs to know the city in order to help tourists'
adds Tomczak.
Why is it worth becoming a volunteer? It's people that create a good atmosphere in the city. Moreover, we make history in this way – says Mezo, who is an ambassador of Euro 2012 in Poznan.
Although the recruitment began on Tuesday, the portal has already more than three thousand accounts of people interested in volunteering (it was possible to register earlier). How the city will choose those who will help fans? In the first stage they will fill in a personal data form which will include information about their previous experience. They will also solve a short English test. In mid-February interviews with selected candidates will begin. During the interviews their skills will be assessed.
Damian Dubina, a student of sociology, was already a volunteer during the Krewni Euro event and Poznan marathon. He also wants to help fans during Euro 2012 and encourages people from Poznan to become volunteers. It's a great experience valued by employers. But for me, it is a great chance to find new friends. If someone tries once, he will see that it is worth helping others.