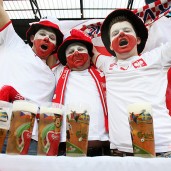 Special law is ready. It will come into force for the time of Euro 2012. It assumes that it is allowed to sell beer at stadiums. This means that the ban introduced in 2009 will not be effective during the tournament. However, there will be exceptions…
At stadiums one can buy light beer (up to 4.5 percent alcohol). But in some cases, the sale of beer will be prohibited. This is to concern high-risk matches. Conditions, which the match will have to meet to receive such a status, have not been specified yet. Beer will be sold in separate areas. Therefore, it is not excluded that on the hands of the buyer there will be … stamps, which prove that during the match the person already bought a beer.
What about those who will bring their own alcohol? They can face restriction of liberty or a fine in the amount of not less than 2000 PLN.
All indicates that the special law will be effective only during the Euro 2012. MSWiA considered permission to sell bear in league matches, but the recent brawl caused by fans discouraged them from this idea.
The ban on the sale of beer has been in force since 2009. The amendments to the Act on Mass Events Security, which prohibits the sale of light alcohol at mass events was supported by 360 deputies, 47 of them were against and 14 of them abstained.