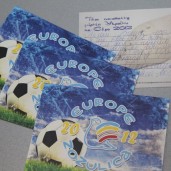 "Book of Wishes to National Football Team at Euro 2012" sets national record and becomes the biggest book in Ukraine.
The idea of the book, consisting of 2012 good luck wishes from football supporters of different parts of Ukraine, was initiated by the team behind Zozulica project (unofficial Euro 2012 mascot) and supported by information centre "Ukraine 2012" together with publishing house "Summit-book".
The unique publication has a symbolic weigh of 20,12 kg and the parameters of 68x105cm. They are equal to 1/100 size of the National Olympic Stadium to be unveiled on October 8, 2011 in Kyiv.
Among 2012 wishes are those of well-known Ukrainians, as well as ordinary football fans. Every wish is written on a separate post card and represents true belief in success and good game of Ukrainian team at Euro 2012 next year.
The official gift ceremony, when the book is going to be presented to players and their coach is to take place next month, in October. Together with the book the team will also get Zozulica amulet, which is believed to protect them from injuries and bring good luck.