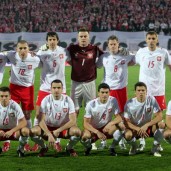 The stakes and expectations are higher for Poland as co-host of Euro 2012.
For the Polish team, this will be their second European Championship campaign after a poor outing at the 2008 tournament. They finished last in the Group in their debut tournament.
Our reporter, who was in Poland recently, looks at Poland's chances for Euro 2012.
That's the question on the minds of millions of Polish fans who are hoping to cheer their team on at this year's European Championships.
Defender Jakub Wawrzyniak admits that his team are not the favourites even though they are playing on home ground.
But they are hoping to make at least the knockout stage.
For that to happen, their defence will be key.
Wawrzyniak said: "Our basis has to be very good organisation of play of the entire team. First of all, we need to secure the defence line very well and we have very interesting strikers."
For the 28-year-old Wawrzyniak, the opening tie against Greece would also be a grudge match.
He is still sore over what he claims was an unfair dismissal by Greek club side Pana-thinaikos in 2009 for drug charges.
Greece aside, the rest of the teams in Group A – which include Russia and the Czech Republic – will provide a tough challenge for the Poles.
But Polish FA President Gregorz Lato is confident his team will top the group.
He says the team is well prepared. They had a training camp in Austria in May, and had a final warm-up match against Andorra, a week ahead of the big kick-off on June 8.
As for the issue of unruly fan behaviour, Lato assured visiting teams they need not worry about the issue of hooliganism in Poland.
Lato said: "There are two types of hooligans. For the national team we noted no incidence, so this is not a problem. We had recent matches with Germany, France, Portugal – zero incidents. But we have problem with club hooligans."
So Poland is making sure that home fans will cheer and not jeer at teams on the pitch. And they are saving their loudest cheer for a successful Poland side.
On June 8, more than 50,000 fans will be cheering Poland on as they kick-off the Euro 2012 campaign against Greece.
Victory is expected and should the home team win, it will send the entire nation into wild celebrations. But more than that, it will be an appropriate start to the great efforts and resources that went into making this event a reality.