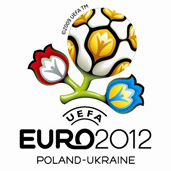 Local Organizing Committee of EURO 2012 Poland, together with UEFA, announced a creative contest called "Support our team – Creating history together". The winners will join the group of Friends of the UEFA EURO 2012.
The competition, for people over 16 years, will include three forms of artistic expression: writing (which can be a poem or a short story, a description of the most important event in the life of a fan, or any other story), graphic design (painting, drawing, patchwork, collage, costume design or needle-work) and a picture referring to the name of the competition. Works will be accepted until January 31, 2011.
The program Friends of the UEFA EURO 2012 assumes the creation of a group of 200 people (100 in Poland and 100 in Ukraine) who support the European Championship in football. So far in Poland there are a few such people Lech Wałęsa, Maryla Rodowicz, Jerzy Bralczyk, Włodzimierz Lubański, Józef Młynarczyk, Robert Korzeniowski, Leszek Blanik, Dariusz Michalczewski, Leszek Możdżer, Andrzej Strejlau and Maciej Stuhr and 20 children, winners of the art contest "UEFA EURO 2012 in my country – Creating history together".