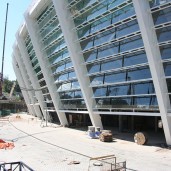 View of the construction site of the national stadium 'Olympiyskiy' which will host the final soccer match of Euro 2012 in Kiev, Ukraine.
National Sports Complex "Olimpiysky" ("Olympic"), the main sports arena of Kiev and Ukraine, is now under reconstruction for Euro 2012 soccer cup.
Long and protracted preparation of the cable-stayed system lifting started in July and is one of the most important stages in the rebuilding of the stadium. Let's have a look on the current state building.