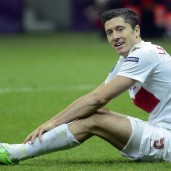 Facts and figures ahead of the Euro 2012 group match between the Czech Republic and Poland at the Stadion Miejski in Wroclaw.
Czech Republic have won 13 and lost just six of 23 internationals against Poland (including games played as the former Czechoslovakia). Poland's six wins against the Czechs have come in their last six games on home turf against them.
The Czechs seem to have a leg-up on Poland, since a draw would most likely get them through as well, but Poland is also playing on their home turf, which could swing things back in their favor.
Will Czech Republic play for the tie?
The Czechs could clinch a spot in the knockout round with a win over Poland, OR a draw and anything other than a 6-plus goal victory for Greece over Russia.
So basically, the Czechs will advance so long as they don't lose this match, which begs the question: how will they attack? Will they continue to push forward, knowing full well how hapless their counter-attacking defense was against Russia?
Poland has some dangerous goal scorers, so look for the Czechs to pack it in, play for the draw, and hope for a potential counter-attack goal.
Home field advantage?
This is basically a knockout round game for the Polish, with the exclusion of overtime and penalties. Basically, they have ninety minutes to beat the Czechs or they go home.
This is exactly the type of game that a raucous crowd can make the difference in.
The Polish faithful is sure to be out in full force to support their side. The adrenaline should be particularly high in the game's opening ten minutes. The Polish will probably push as hard as they can for an early goal, so they can immediately play from a position of power.
Who will be in net for Poland?
Wojciech Szczesny has heaped effusive praise on the job his backup Tyton has done in relieving him so far, but now that he's available again, he wants his spot back.
The Arsenal keeper was given a red card against Greece, setting up Tyton's now-infamous save on the penalty shot. Tyton gets all the well-deserved credit for the save, but it's worth mentioning that Szczesny's red card stopped the Greeks from scoring in the run of play, making it a game-saving foul.
Tyton was impressive in a 1–1 draw against Russia as well, but in a must-win game it would seem ludicrous to go with anyone but your first-team keeper should he be available.
Polish speakers please enjoy bet prediction Polska Czechy typy for Saturday Euro 2012 big match.