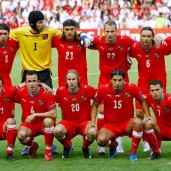 The Czech team coach Michal Bilek announced on Wednesday that it already knew the names of 18 of 23 players who will play at this year's European Championships in Poland and Ukraine. Czech Republic will be one of the group competitors of Poland.
"I already have 18 names in my head that I think are the certs. The team may include 23 players and this number will go for the May grouping to Austria" – said the coach at a meeting with journalists in Prague. He said that he had doubts as to five remaining contestants.
The main preparations of the Czech team for Euro 2012 will take place between 20 and 27 May in the Austrian Bad Waltersdorf, where Poles stayed during the previous championships.
Bilek also noticed that at this time of the management team's efforts will focus on assessment and analysis of the play of group competitors, this Poland, Greece and Russia. "Above all, we'll go to matches. Every weekend we'll watch players and talk to them personally" – said the coach.
"The great joy for me is Tomas Rosicky. It was reasonable that after a back injury in a match of Tottenham with Arsenal we let him rest and did not involved him in the match with Ireland. Now everything is all right. On Tuesday, he played well in the Champions League meeting with Milan. Again he showed his high quality" – explained Bilek.
His dissatisfaction is related to the shape of the striker Tomasz Necida, playing in CSKA Moscow and who returned to football after knee surgery and several months of convalescence.
"We will see how the situation will develop. He is healthy, however, he is involved in games only at the ends. His longest play lasted about 30 minutes. He needs more practice in this field" – said the coach of the Czech national team.
Wednesday's meeting with journalists was held in Sparta Prague's training center. In addition to the coach Michael Bilka, there was also the head of the Football Association of the Czech Republic (FACR) Miroslav Pelt and the national team manager Vladimir Šmicer.
On Thursday and Friday Bilek with Šmicer Bilek will be in Warsaw at the workshops for participants of the Euro 2012. They will learn there, in particular, the organization of the championships, safety measures, etc.
All meetings of the group stage the Czech national team will play in Wrocław. Therefore, it already reserved the whole wing of the "Monopol" hotel, located in the city center.
"All the preparations and contacts with the media will take place at the stadium Silesia, Wroclaw at Oporowski street" – explained Šmicer.
The Czech representation will arrive to the capital city of Lower Silesia on June 3, which is five days before their first match. The match with Poland will take place on June 16.