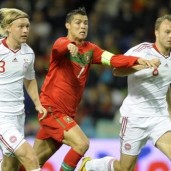 Hardly anybody had expected that after the first match against Holland the Danes would have 3 points on their account. But they managed it!
In duel with Oranje, the Olsen team's defense played like during a concert; in consequence, they were rewarded by acquisition of complete set of points and their prospects to advance from their group are favorable. But can they really be sure of this? Let's consider the next rival of Danish team, i.e. the squad of Portugal. They lost in turn their first match at Euro 2012 against Germany scoring 0-1. But when you compare those two teams you can come to conclusion, that Paulo Bento's squad is more likely to be the favorite of this encounter.
Although Portugal was defeated in the match with Germany, in our opinion they presented themselves very well. The Portuguese needed badly losing the goal – only after that had happened, the Portuguese showed their claws and started playing excellently. Bento's behavior was also very good; just after his team lost the goal he made some changes that brought in much animation into actions of Ronaldo & Co. And at this point let's have a look at CR7. Many coaches and football experts consider him an egoist on the pitch.
However, his behavior in this match was different. He was looking for his mates who usually were on better positions. It is also worth adding that in that match the fortune didn't favor Portuguese players, who hit the crossbar twice. Especially Pepe lacked really little to score a goal. Portugal is a squad that will be able to dominate over the Danes in the midfield. They have excellent midfielders thanks to whom their optical predominance will be significant. The strong point of Morten Olsen's lineup is the team play and the fact that they are physically very well prepared for the tournament. It is not the first time we write about it – many people think that the Polish team is well prepared. In our opinion, when compared to Danes, the Poles aren't prepared at all.
What can the duel between Denmark and Portugal look like? Let's have a look at the table. Denmark and Germany are on top with 3 points each. Holland and Portugal have no points. If Portuguese want to take part in the next stage of tournament, they mustn't lose the next match. That means they will have to attack. We have seen recently how well the Danish squad play in counterattack. If both teams decide to set on exchanging blows, we can witness a fascinating goal scoring performance.
In our opinion an interesting bet in this match is the goals over. Bento's protégés will be striving to score a goal at all costs and they won't be satisfied with only one accurate strike. Denmark can very well play in counterattack and it can be the key to cover that bet.
We think that the Portuguese will win that match with the difference of at least two goals, there will be also an over of 2,5 goals.
Our bet: Portuguese will win, over 2,5 goals.
Denmark – Portugal Betting Odds
| | | | | | | |
| --- | --- | --- | --- | --- | --- | --- |
| Denmark win | 4.00 | 3.75 | 4.00 | 4.00 | 3.60 | 3.95 |
| Draw | 3.50 | 3.30 | 3.45 | 3.35 | 3.40 | 3.25 |
| Portugal win | 1.90 | 2.00 | 1.95 | 2.00 | 2.00 | 1.95 |
| Sign up bonus | freebet 200£ | freebet 25£ | bonus 20€ | bonus 30€ | freebet 60£ | bonus 50£ |
Group B
Our bet: Portugal will win
Match: Denmark v Portugal
Stadium: Arena Lviv, Lviv
Time/Date: 18:00 13th June 2012