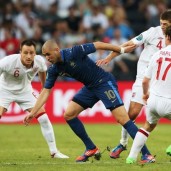 Those who had expected a hit, must be disappointed. After a weak game in Donetsk the French achieved a draw against England scoring 1:1 and it is difficult to believe, that those teams will be able to reach the European championships semifinal.
If somebody considered the French medal candidates, after the yesterday's match he knows that he was wrong. The coach Laurent Blanc was right while asking after eliminations not to expect wonders from him.
There were moments when his players didn't seem to be a football team at all. When they were trying to patch together an action, in which three players would participate, they mostly lost the ball. The English goalkeeper Joe Hart was in the most serious oppression when people wearing blue tricots attempted to place the ball in his gate single-handed. And there were many of them eager to do that: Mathieu Debuchy, Franck Riberry and Alou Diarra were striking and Samir Nasri hit the target; there was of course no collective effort in that goal.
Nobody had expected the English to show great skills at Euro 2012; considering the fact that the coach Roy Hodgson has been working with the national team for a month, the result from Donetsk can be regarded as quite a good start of European Championships. But the Islanders shouldn't even dream to be able to defeat Spaniards or Germans.
Who scored a goal for the "Three Lions" team? Joleon Lescott, who a few weeks ago was fated to watch Euro from the substitute bench or stadium tribunes. Only after Gary Cahill's injury was he given a place among the first eleven.
The English could have remembered that recently they were given a thrashing at every tournament, so they did their best in order the outcome of the opening would not be a disaster. And when they scored the first goal, they decided to defend that result. After losing the ball, eight players positioned themselves near their own penalty area, while Young and Welbeck were responsible for attacks. But they could have as well joined their colleagues, as they were standing so far away that patching up a counterattack was impossible.
Both teams have of course chances to advance to quarterfinal if they keep playing like this. But, if nothing changes, it is unlikely that they will be able to prevail over Spain and Italy who are regarded as Group C favorites.