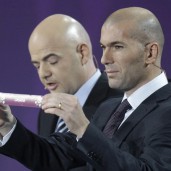 The results of today's draw to determine the groups for the 2012 European Championship in Poland and Ukraine next summer…
Group A: Poland (66), Greece (14), Russia (12), Czech Republic (33).
Group B: Netherlands (3), Denmark (11), Germany (2), Portugal (7).
Group C: Spain (1), Italy (9), Croatia (8), Ireland (21).
Group D: Ukraine (55), Sweden (18), France (15), England (5).
(FIFA world rankings in parentheses.)
Unlike the World Cup, there are no predictable matches — which makes the European Championship the most competitive of all major tournaments.
Group of Death a Thousand Times Over: B.
Group of Near-Death Experience: C.
Group of Megadeath Concert: D.
Group of Spiritual Death: A.
Reigning champion Spain will be tested. England can't have many complaints. Ireland has a brutal task ahead.