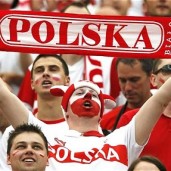 Riding the wave of enthusiasm caused by Euro 2012 many Poles started dreaming. When will an event of this kind take place in Poland again?
An analysis conducted by sport redactors it shows that it would be relatively easiest go obtain rights to organize the summer Olympic Games in Warsaw in 2024. It is also possible to organize the football Mundial, but not before 2030. An analysis by Michał Kiedrowski.
Poland surely has some assets to organize football Mundial or summer Olympic Games in future, but it won't happen within the following 10 years. It does not mean however, that during that time Polish sports fans won't have a chance to get excited. In 2 years' time Volleyball World Championships will take place. In 2016 the handballers will struggle in Poland to win the title of the Europe's best team.
And what does Poland still need to be able to organize Mundial or Olympic Games? Let's make an analysis.
Mundial in Poland – in 2030, at the earliest?
The Mayor of Gdańsk, Mr. Paweł Adamowicz suggested during Euro 2012 that Poland could organize Mundial together with Germany or Czech Republic. However, our odds would be better if we organized the tournament on our own.
Firstly, because our western neighbors hosted the championships in 2006 and within the following 40 years they are not likely to be chosen again. Secondly, FIFA, contrary to UEFA, very reluctantly considers double candidates for championships hosting. When the Mundial host was to be selected in 2010 and 2014, at the first stage of the selection procedure the FIFA executive committee stated that joint candidatures (presented at that time by Libya and Tunisia and four years later by Argentina and Chile) wouldn't be considered at all.
The FIFA chiefs changed their mind only in 2010, when the hosts of world championships to be held in 2018 and 2022 were selected. But the joint candidature of Spain and Portugal, as well as that of Belgium and Holland had no chance in confrontation with Russia.
Mundial could take place in Poland not earlier than in 18 years, because in the course of host selection, FIFA has used lately a rule that excludes countries from continents where two championships editions had been previously held. So if the 2014 Mundial is organized in South America and the 2018 championships in Europe, then in 2022 the Europeans and South Americans would be excluded from host selection. The winner is Qatar. In this case the World Championships in 2026 can be hosted by a country from North or South America, Africa or Asia. Europe would have a chance as late as in 2030.
It is of course possible, provided that FIFA doesn't change their regulations and come back for example to the idea of continental rotation. In that case we would have to wait for Mundial at least 4 years longer.
The selection of Mundial host in 2030 will be decided by FIFA not later than in 2022. So Poland has at least 10 years to prepare its Mundial hosting candidature. And we can admit that that candidature won't be chanceless.
Its advantages:
experience acquired during organization of that kind of event in 2012,
excellent assessment of Euro 2012 organization,
easy displacement of football fans between stadiums (even taking into consideration a very serious delays, the

system of highways connecting major Polish cities should have been completed by 2022),

getting to Poland by plane is easy and distances between airports and stadium are small.
large number of modernized stadiums (those built for Euro 2012 will be followed by Silesian Stadium and other ones, for example in Łódź, Zabrze, or Białystok)
A giant stadium needed for Mundial
It won't be a problem, how many new stadiums would Poland need to build for Mundial, but rather how to extend the audience in existing ones. Poland's largest stadium, i.e. the National Stadium in Warsaw is too small for Champions League finals, not to mention the Mundial.
To be able to organize Mundial, at least 10 stadiums are needed (so many were in South Africa two years ago), but the odds of candidates that would guarantee more are much better (in Brazil in 2014 should be 12 and in Russia in 2018 as many as 16 stadiums in 13 cities).
South African stadiums had capacities ranging from 39 to 84 thousands spectators. Three of them were larger than our National Stadium. Stadiums in Brazil will accommodate from 40 to 76 thousand viewers, and as many as 5 of them will be larger than Warsaw National stadium.
FIFA demands the next Mundial host candidates to prepare for the final match a stadium that can accommodate at least 80 thousand fans. In Poland there is no such an object. Furthermore, also other stadiums that have been built or modernized recently would have to "swell" considerably – especially the smallest ones – to be able to meet requirements of such an event.
Poland would not be chanceless in the race for Mundial 2030 organization. It could offer a "compact championships". Compared with Russia or Brazil, the fans wouldn't need to cover long distances getting from one stadium to the other. But the Polish government would need to take over the burden of reconstruction of stadiums or construction of new ones, so that those est ones could accommodate from 40 to 45 thousand fans, the three larger from 50 to 60 thousand viewers each, and one at least 80 thousand spectators. The costs of such enterprise would be probably larger than in case of Euro 2012. Today the government is not ready to participate in Mundial organization competition. However, it is difficult to predict the situation in 10 years' time, when the candidature is to be submitted.
After all, when we were granted Euro 2012, we didn't have even one stadium that could meet the Euro 2012 organization requirements.
Is it easier to organize Olympic Games? A large stadium, a huge sports hall and a big swimming pool are required
We are sure that Warsaw would be able to organize Olympic Games earlier than football world championships. The International Olympic Committee does not use a continental rotation system, although it doesn't of course happen, that Olympic Games take place on the same continent two times in a row. Warsaw could be granted Olympic Games organization as early as in 2024, provided that in 2020 the Games will be held in Tokyo (other candidates are Madrid and Istanbul).
In the case of Olympic Games the city organizing the event should also possess at least one gigantic stadium for 80 thousand spectators to attend the opening, closing ceremonies and athletic competitions. Such stadium would have to be constructed, because at the designing stage of Warsaw National Stadium the addition of running track was given up and it is impossible to include it now.
The second object that should be erected for Olympic Games in Warsaw is a water sports center, i.e. a place, where swimmers, water jumpers and water polo players could compete. In London it was the second most expensive sports infrastructure investment after the Olympic stadium. It cost 269 million GBP. Indoor Olympic-size swimming pool with audience facilities for 4 thousand places is planned to be build at the National Stadium. Its present cost is estimated for 280 million PLN.
Warsaw also lacks a genuine sports and entertainment arena. Torwar – at present the largest sports hall in Warsaw could play only a subsidiary role during Olympic Games – the most important volleyball, basketball matches or sports gymnastics finals would have to be held in a much larger object, with an audience numbering 20 thousand persons. Construction of such an arena is planned at the National Sports Center; its estimated cost is 140 million PLN.
Fortunately, Warsaw already has the fourth most expensive object needed for Olympic games (after athletic stadium, water sports center and multifunctional hall) – the indoor cycling track. The one situated in Pruszków, which hosted world championships three years ago would be fully sufficient.