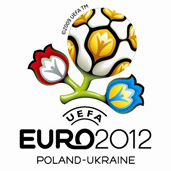 Prime Minister Yulia Timoshenko of Ukraine has participated in a meeting of the Polish-Ukrainian Committee for the organisation of the EURO 2012. While in Warsaw she also held talks with Prime Minister Donald Tusk on the preparations to the championships.
Both premiers assured that stadiums in Warsaw and Kiev will be built on time and added that both countries will intensify cooperation in the preparation to the championships.
Danuta Isler reports
It was in April 2007 that Ukraine and Poland were named co-hosts for the prestigous tournament. Since then little progress in preparations has been observed in both countries with reports in European press that UEFA was considering reducing the number of games held in Ukraine during Euro 2012 or even moving the event elsewhere. In January UEFA president Michel Platini issued a stern warning to the two countries followed by a recent statement that the tournament may be abandoned if stadiums in Warsaw and Kiev are not ready on time.
'UEFA Executivee Committee has granted the right to organise EURO 2012 to Poland and Ukraine and we will do everything we can to ensure Poland and Ukraine host it. There is no backup plan.'
Despite reservations from UEFA officials prime ministers of both countries have assured that their countries will be ready in time. "We are aware of the fact that there might be some in Europe who want us to fail and the only effective answer is joint and precise coordination," said Poland's PM Donald Tusk.
'During his recent visit to Warsaw Michel Platini has heard a unanimous declaration from Poland that this country was granted together with Ukraine the chance to organize EURO 2012 tournament and they will jointly finalise this project.'
"I would like the motto of the Euro 2012 preparations to be: Two countries, one team," said Yulia Tymoshenko in response to recent media speculation that Ukraine will not be ready in time for Euro 2012 and that UEFA is planning to transfer the majority of the matches to Poland.
'We have agreed that the two basic venues for the tournament: the olympic stadium in Kiev and the national stadium in Warsaw will be built on time. These will be facilities of high standard which means that EURO 2012 tournament will be held in attractive stadiums.'
The matches are to be staged at eight venues, four in each country. Both hosts, however, still face major infrastructure problems, like a lack of stadiums and urgent modernisation of airports, road and rail networks. Andrzej Person, a senator of the ruling Civic Platformn is the former spokesman of Poland's Olympic Committee.
'In my opinion the problem is in our neighbour. I like Ukraine very much but there is absolutely no doubt that there is a difference between the Polish and Ukrainian levels of life, roads and stadiums. It's all because in Poland in the last six months all work has been going very well.  Poland and Ukraine give bigger chance for Europe to prepare something special with a unique atmosphere.'
It has also been suggested by the media that if Poland shows that it is making progress the country could combine with Germany for a joint bid. Tomasz Włodarczyk of the SuperExpress sports desk disagrees.
'I believe that stadiums are not the biggest problem. The biggest problem is the whole infrastructure and administration process as well. Obviously there are some big concerns but we can also compare Ukraine to South Africa, for example, which hosts the 2010 World Cup. They also have political and administration problems and FIFA which is really concerned about the whole situation still does not give up on them. So I think UEFA, Poland and Ukraine have to do everything to be prepared as much as they can for 2010 European Championships.'
The final test will come in September when the report presenting conclusions of Michel Platini's recent visit to Poland and Ukraine will be published.