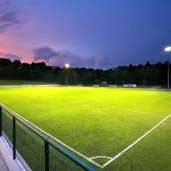 UEFA-recommended accommodation centres are approached as basis for individual national teams for Euro 2012.
The drawing of groups for the finals will take place in Kiev on December 2. Each participant of the finals has the right to point out a single accommodation centre in Poland and Ukraine and two substitute centres.
The UEFA-recommended accommodation centre list, published on October 1, 2010, includes 17 Ukrainian and 21 Polish centres. The list does not include a centre in Grodzisk Wielkopolski already booked by the Polish national soccer team.
This is the training base for teams that arrive in Polish for Euro 2012. UEFA Euro 2012 and the company published a list of hotels where the players dwell and accompanying training pitches.