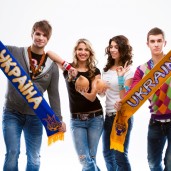 The EURO-2012 unofficial mascot competition was launched in Ukraine in November 2010. Main requirement of the organizers – the winning mascot had to embody representative of Ukrainian fauna. The competition proved to be highly popular and got more than 250 entries from different parts of the country as well as overseas – foxes, pigs, bulls, horses and even fairy-tale dragon participated.
The jury consisting of well-known Ukrainian artist Evgeniya Gapchynska, Ukraine national football team coach Oleg Blohin and famous tennis-player Andriy Medvedev had a hard task to choose the winner. Ultimately, after long debates they did not succeed to determine a single prize-holder. Alternatively they named three laureates – the image of cuckoo-shaped ancient whistle Zozulica, lion Levro and Euro-hedgehog.
During competition Zozulica became surely the most-spoken about entry project, being often compared to African vuvuzela. Its authors however underline that Zozulica has nothing to do with distracting sounds at venues next year. Its main aim is to showcase ancient history of Euro-2012 co-hosts and present traditional pottery crafts to every tourist.
These days Zozulica is entering the market with a line of the same-named souvenirs. Soon every fan will be able to purchase a small version on a strap, a big collector's version and several other Zozulica items.