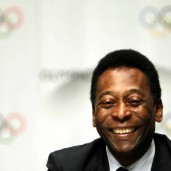 Bastian Schweinsteiger, Steven Gerrard, Wayne Rooney, Xavi Hernandez and Cristiano Ronaldo – these are five players mentioned by Pele when asked about it who might be the biggest star of the Euro 2012.
Although seven months remains for the EURO 2012, the British "Sky Sports" today decided to ask the legendary Brazilian footballer about it who, in his opinion, would be the star during this tournament.
Triple world champion pointed to five players and justified his choice. Unfortunately, the list did not include any players of the Polish national team.
Pele's list:
Bastian Schweinsteiger (Germany)
"I like Schweinsteiger because it is a good midfielder. He always play for the team and is the type of player that every team wants. If I were a coach I would definitely want to have him in my team."
Steven Gerrard (England)
"A technically very good player and intelligent one. This is a player who assures you as a midfielder and side midfielder. He coordinates the game."
Wayne Rooney (England)
"Another English footballer. People think that he play 'by force' but it's not true. He just plays with heart. This is a player whose participation in a team is always desirable".
Xavi Hernandez (Spain)
"Xavi is also a player who could play in each team. This is an excellent and very intelligent footballer. Barcelona is not just Messi, because it is Xavi that coordinates and organizes actions of the team, making the game easier for the team".
Cristiano Ronaldo (Portugal)
"A strong player. He can score many goals because he makes it possible to create situations happening in the goal area".