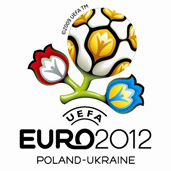 The moment has arrived. All football fans, just six months before the curtain goes up. Excitement will reincarnate as the Euro 2012 knocks at the door with all the pleasantries. the door is hard but it will break, soon enough on June 8 when the world welcomes Euro Cup 2012, a much anticipated contest after the WORLD CUP 2010. The qualifying rounds are still in progress and so far Germany and Spain has showed great class with zero defeats and victories in all of their qualifying matches. Former world Champions Italy are in the hunt too although some of their matches ended in a stalemate.
Last Euro Cup was an absolute thriller. Spain were the victors but there was one country who managed to secure attentions from the entire world. The unpredictable turks. With last minute miracles, they took the contest to a whole new dimension. Croatia, Czechs, Swedens and many others nations were outlawed by the turks. But that spark couldn't ignite in the play-offs as the they were pinned down by the Germans although it was a deadlock contest with Germany managing to secure a last minute victory. With impeccable strikers and nearly next to impossible unbreakable defense Germany appeared to be the strongest. But they were outsmarted by a brilliant performance from the spanish, even in the play-offs of the World Cup 2010 when the spanish figured the German's weakness, which cost them the match.
This year Germany will look exact revenge from the Spanish for their previous 2 defeat and hope that history wouldn't repeat itself. Spain, too, will look to keep their undefeated streak alive if their is face-off between the giants. One would expect the Turks to come up with last minute miracles. if that happens the excitement would be heightened to a whole new dimension. Other countries who failed to do well last year would look forward to solidify their heart from the humiliation and step up the game with a better performance.
Even i can smell excitement in the air. those finger-crosses, tensions will be back again and i cant wait to embrace it." Joy to Adams Smith". His philosophy of competition will be born and this time with a whole new look. I hope this years Europe cup will be exciting and the world yet again will be gifted with some remarkable matches.