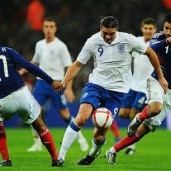 In Group D the fans will be watching a classical match between France and England. Les Bleus, the 16th team in FIFA ranking will measure their strength with Sons of Albion who in that ranking are on position seven.
It is very difficult to foresee in what shape players of both teams will arrive at the tournament. At some of the previous events of this kind they accustomed their fans to very unstable play. Both French and English have won their elimination groups.
The expectations of both teams' fans are enormous. If they don't advance from the group, they will discredit themselves in the eyes of their fans. In our opinion, despite their lower position in FIFA ranking, the French can prove to be a surprise of the tournament and advance to the top.
Paradoxically, it can turn out that the young and inexperienced players will be the greatest advantage of the French team, while their rivals will have at their disposal charisma, strength and experience of such footballers as John Terry, Ashley Cole or Steven Gerrard. It will be an extremely exciting match and we think that its outcome will be a draw.
Our bet: Draw.
France – England Betting Odds
| | | | | | | |
| --- | --- | --- | --- | --- | --- | --- |
| France win | 2.70 | 2.50 | 2.60 | 2.75 | 2.70 | 2.65 |
| Draw | 3.10 | 3.10 | 3.25 | 3.10 | 3.20 | 3.15 |
| England win | 2.70 | 2.50 | 2.70 | 2.75 | 2.70 | 2.65 |
| Sign up bonus | freebet 200£ | freebet 25£ | bonus 20€ | bonus 30€ | freebet 60£ | bonus 50£ |
Group C
Our bet: Draw
Match: France v England
Stadium: PGE Arena Gdansk, Gdansk
Time/Date: 19:00 10th June 2012