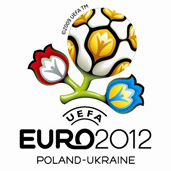 Before the start of the European Championship to be held next summer in  Ukraine and Poland, the Ukrainian national team will play a friendly match against Estonia. The game is scheduled for June 5 and will be held in Austria or Germany, according to 2012ua.net.
Thus, the schedule of test match team Oleg Blokhin is now fully known until the beginning of the final tournament of Euro 2012. This year, the Ukrainians will play:
in Kharkov, with Sweden (August 10) and Uruguay (September 2)
in Sofia and Bulgaria (October 7)
in Tallinn and Estonia (11 October)
in Kiev at the Olympic NSC with Germany (November 11)
and in Lviv at the new stadium in Austria (November 15).
The next year Ukraine will play three friendly matches, and all on the road: in Tel Aviv and Israel (February 29), in Vienna, Austria (June 1) and four days later with Estonia. However, the calendar of the last two games could change, but only if the number of contenders for the final tournament of Euro 2012 team will get the Ukrainians in Austria and Estonia.