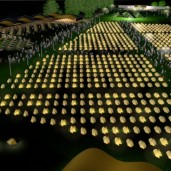 The centre of the city and football events
Located right in the heart of Gdansk at the premises of the former Gdansk Shipyard it is a place where the latest World history is alive.
Together with people who overthrew the communism and the Berlin Wall, we have created a great place for recreation and fun for you.
We provide sport fans with a camping site for 5000 persons in a double tents, and a recreation, gastronomic, and sanitary zone. The parking site will be able to accommodate up to 2000 cars and 500 campers. Thanks to the
camp's exceptional location, visitors can enjoy easy access the city without use of a car.
Location Gdansk Football Camp Euro 2012
The camping site has a great location in terms of communication:
At a distance of 750m from Gdansk Football Camp 2012, you will find the official Fun Zone with a capacity of 30000 fans where, during EURO 2012, you can watch a match and have great fun at events organised by the City of Gdansk.
950 m is all you need to walk from Gdansk Football Camp 2012 to get to the Old City offering many beautiful sightseeing destinations and several hundred bars, pubs, and clubs.
The camping site is located at a river. We organise boat trips at the port and in the Gdańsk Bay.
PGE Arena is located at a distance of only 3500 m from Gdansk Football Camp 2012. You can walk there in 30 minutes, or go by bus in 5.
For further information visit webpage: http://camp2012.pl/en/main