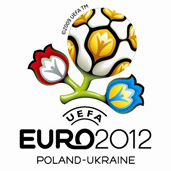 The German Soccer Federation has rejected allegations it has discussed with UEFA the possibility of Germany serving as co-host for Euro 2012.
The German Soccer Federation (DFB) on Tuesday, July 22, denied British media reports that the ruling body UEFA has been in contact over Germany possibly replacing Ukraine as a Poland's co-host for Euro 2012.
"There has been absolutely no contact with UEFA in relation to this question and also no official query," DFB general secretary Wolfgang Niersbach said. "UEFA's executive committee will discuss Euro 2012 at the end of September in Bordeaux."
The Daily Telegraph newspaper reported Monday that Germany was being lined up to replace Ukraine as co-host for Euro 2012 amid fears inside football's ruling body that the East European country would not be ready to stage the event.
UEFA's main concerns center around the political situation in Ukraine, delays to stadium construction and worries over transport infrastructure, the paper said.
Under the contingency plan reported by the Telegraph, Poland would host most of the games along with the eastern German cities of Berlin and Leipzig.