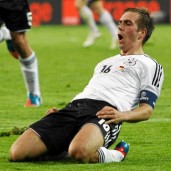 Germany were already formidable enough at Euro 2012 but they will be enlivened all the more by their rout of Greece. In mid-campaign, Joachim Löw's side became carefree as they relished the fun to be had after half-time. Greece did not lack pride and there was a second goal for them in the 89th minute when Dimitris Salpigidis stroked home a penalty but it was a rare moment of inconvenience for the victors.
The opening by Germany was full of confidence as much as talent. It hardly seemed to matter that the lineup had altered. Joachim Löw, for instance, put Mario Gomez on the bench. Considering that the replacement at centre-forward was Miroslav Klose the manager cannot have felt he was taking much of a risk. There was little alarm even before their captain Philipp Lahm put them ahead in the 39th minute.
If there were any initial misgivings for Germany they might have arisen from an occasional lapse in concentration and Bastien Schweinsteiger was careless when losing the ball to Kostas Katsouranis. Greece were at least eager to compete even if they lacked the gifts of the Germans but Giorgios Samaras went too far and was booked for a foul on Schweinsteiger.
The forward had taken pugnacity to excess but his team-mates generally settled for a respectable obstinacy. It was employed well enough as Greece hung on without ever stifling the Germans' flair. Löw's men were very sure of themselves and could easily have been ahead before Lahm's strike. After 24 minutes, a slightly misdirected attempt by Marco Reus might have been tucked in by Miroslav Klose but the ball was just beyond them.
Regardless of such incidents, there was little encouragement for Fernando Santos's side, while their goalkeeper Michalis Sifakis was busy. Even so, Greece were not overcome by fatalism and tenacity has served them wonderfully in previous games. There is a history to the European Championship that must still be inspiring to the disadvantaged everywhere. When Greece won this tournament in 2004, they came through the group phase with a mere four points. Whatever else is said of them, they undoubtedly had an element of surprise despite beating the hosts Portugal at the start as well as in the final. Some of the resilience summoned up then had to be rediscovered in this match even if the captain and midfielder Giorgos Karagounis was suspended.
Any disquiet in German ranks would only have been present because people are beginning to expect a spectacle from Löw's team. That demand is to be anticipated but it can still be a burden. It took Lahm to lift the weight from their shoulders.
A side of high promise go through a vetting process as the public tries to establish their real worth. It is a challenge for such a team to show their temperament as much as their technique. Greece would have wished to make nerves twang by holding out long after the initial exchanges.
They did not succeed in that aim. A hint of individualism made all the difference when Lahm came in from the left and thundered a strong drive across the goalkeeper and into the far corner of the net. It brought Angela Merkel, the chancellor of Germany, to her feet.
Alterations were inevitable for Greece and the introduction of Theofanis Gekas was intended to give the side impetus. Such strategies were of no account so long as Germany stayed on the attack. Klose's appetite was not be doubted as he made one forceful run that led to a corner.
Germany were eager to finish off the job but in the 55th minute Dimitris Salpigidis broke on the right and Samaras, in the middle, kept pace with him so that he was able to slip home an excellent low cross.
Germany are not a side to stay crestfallen for long. Sami Khedira cracked in a volley after a ball from Jérôme Boateng fell to him. Klose headed in from an Mesut Ozil corner to testify to his own enduring worth and Germany added a fourth when Reus smashed in a fourth goal with glee after Klose's drive had rebounded to him. Salpigidis scored with a penalty given for handball with a minute to go but for Greece the brief taste of the high life was over.