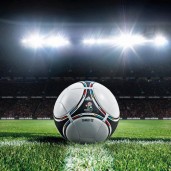 Fernando Santos claims that at Euro he would have the best defense from all teams participating in the tournament.
The ill-considered statement of "Hellas" head coach has already caused a lot of confusion below the Acropolis. Fernando Santos blurted out that during Euro he would have at his disposal the best defense from all teams taking part in the tournament.
Pictures with his silhouette immediately appeared on all colorful covers of the country's largest magazines. Even the Greeks, who are considered to be excessively optimistic, didn't believe in the declarations of their national team selector. While it's true that the well organized defense is the driving engine of "Hellas", they still are a long distance away from the best teams. Its leader is just 21-year old Kiriakos Papadopoulos who plays for the German Schalke 04.
Santos seems to have forgotten, that it is a boy who is facing a long, thorny way that he has to travel in order to prove his real value and usefulness for the team. Manchester United is told to be interested in him, but placing him at the same level as the aces of European defensive is an exaggeration and disregard of reality. None of the Greek defense players has proved on the pitch their world class yet. To the contrary: Tzavellas is rotting in the second-league Monaco, and the other Papadopoulos, namely that from Olympiakos, is preparing his escape from the burning Greece. But who knows, since Santos has managed to promote Cristiano Ronaldo, maybe he will be able to introduce some of his buddy Greeks into European reception rooms, too…
The midfielders, who have been praised by the head coach, will have an opportunity to show their skills today … at midnight according to Polish time zone. Greece will be playing a sparring match with Armenia. After the test against Slovenia, that they didn't pass too well, the atmosphere in our rival's camp is quite nervous. There is no secret, that some crucial changes are expected to take place in Greek roster. For our rivals it will be the last test before the opening match with Poland. You can read our Poland Greece Euro 2012 betting predictions.
In the opinion of Greek media, the result of that match will have no serious impact on the team's attitude during European Championships. Many national team players still complain about weariness after league season, but the training staff reassures that during their stay in Legionowo all of them will have a lot of time to charge their dead batteries.