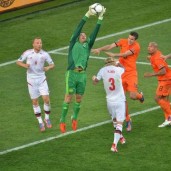 Not less interesting and who knows if not the most interesting in the second round will be the match between the Dutch and Germans.
In their first match at Euro 2012 the Dutch have shown a very weak shape and were defeated by Danish team scoring 0-1. As you can see, the names don't play and such stars as Robben or Van Persi weren't able to cope with Danish squad, whose ranking standing is much lower. The Germans are traditionally in a good shape while playing in top rank tournaments. In the match with Portugal they showed that they are able to construct interesting actions; in consequence of one of them Mario Gomez scored a goal which, as it turned out later, was the winning one.
We had been thinking over that match for a long time and came to the conclusion that it will be a duel after which Holland definitely looses the chance to advance from the group! In the match with Denmark Robben was practically unproductive – we could observe the same behavior all the time– the ball to the wing, smash to the side and looking for the left leg. It was dangerous as long as nobody had known who Arjen was. Now it is a bit too late and Robenn is very well worked out by the German training staff. Let's add the fact, that there are seven Bayern players in the German first squad; since Arjen also plays for Bayern, everything is clear.
That footballer will have no chance to show his skills in the match witch Germany – in our opinion his treats have been analyzed so well, that all the coach can do for him is to replace him after the first half. Let's go a bit farther: in the match with Denmark Klaas Jan Huntelaar, German Bundesliga top scorer, preferred to gesticulate and argue if there was a hand hit or not, rather than to play football. Van der Vart is surely a great unknown and in our opinion he can turn out to be a lethal weapon of Oranje squad.
Germans are the class to themselves. It was shown among others by Mario Gomez, who during the first 45 minutes was practically invisible. And then there is a pass from the right in 75th minute and Gomes turns out to stand just where he should be. Ozil – we have been amazed by that player all the time. The lightness and freedom with which he moves on the pitch as well as his passes served to his mates are awe-inspiring. The German defense doesn't look bad, either, with Boateng and Lahm on both sides.
In our opinion the outcome of that match will be Germans' victory; in consequence, it will practically guarantee them the first position in their group. Will Oranje have to go home? Why not! The Dutch squad lacks interesting midfielders, and at least during the match with Denmark we couldn't notice them.
Our bet: Germans will win.
Holland – Germany Betting Odds
| | | | | | | |
| --- | --- | --- | --- | --- | --- | --- |
| Holland win | 3.00 | 3.00 | 3.00 | 2.95 | 2.90 | 3.00 |
| Draw | 3.40 | 3.20 | 3.40 | 3.30 | 3.40 | 3.30 |
| Germany win | 2.40 | 2.40 | 2.35 | 2.45 | 2.30 | 2.40 |
| Sign up bonus | freebet 200£ | freebet 25£ | bonus 20€ | bonus 30€ | freebet 60£ | bonus 50£ |
Group B
Our bet: Germany will win
Match: Holland v Germany
Stadium: Metalist Stadium, Kharkiv
Time/Date: 20:45 13th June 2012