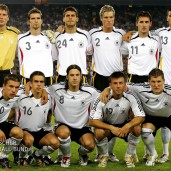 Bonuses for winning the title of a champion for Euro-2012 should be maintained at the same level as for the World Cup 2010 and Euro-2008, this is 250.000 EUR for each player – stated Oliver Bierhoof, chairman of the German Football Association.
250.000 EUR will get every player of the German team. The amount of the bonus is negotiated, but Bierhoff does not think that the amount will be higher than a year and three years ago.
Funds provided by the UEFA for the European Championship for all teams is higher only by 500.000 EUR compared to 2008. So, I do not see so more chances to change it – said Bierhoff in an interview for "Sport Bild".
For the second position for the Euro-2008 every player of the German team received 150.000 EUR. During the World Cup in South Africa, the team of Joachim Loew won the third position, for which each player got 100.000 EUR.