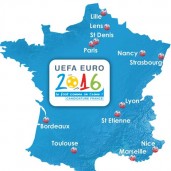 Euro 2016 football championships will be held in France. The event has been already announced as the greatest endeavor in the history of that tournament.
How are the French going to surprise us?
24 teams and over 2.5 million viewers – those are the most important numbers of the Euro 2016 tournament that should take place in France. Not only the number of teams struggling to win the title of the best Old Continent squad will increase, but also the way of tournament management will be changed.
Just two years ago a co-partnership was established, in which 95 per cent of stocks are owned by UEFA and only 5 per cent by the French football federation. The French should just cover the costs of construction and renovation of stadiums, and be concerned with security issues.
Not everybody accepts the idea of extending the number of teams taking part in the tournament by the next eight squads. The UEFA President, Michel Platini argues, however, that it is the right move. The reason may be the fact that UEFA will be the greatest beneficiary of the tournament, and their income will be bigger than at Euro 2012. A larger number of teams means greater revenue from TV broadcasts, tickets, sponsoring contracts, souvenir sales, etc. The French in turn, will build five new stadiums, especially for Euro. The next five ones will be modernized. Betting on soccer online is easy. You can even already bet on the Euro 2016 winner at many sportsbooks.
An increase of the number of teams taking part in Euro 2012 involves also the necessity to change the tournament format. Compared with Euro 2012, 20 additional matches will be played, and the tournament will last one week longer. 24 teams will be divided into six groups, each of them consisting of four squads.
The best two teams from each group plus four taking the third places will advance to the next round. The only unknown issue is the question how the teams will be qualified to Euro 2016 tournament. One thing is certain – due to the larger number of teams, squads will be qualified, that would have a little chance to advance to the final tournament if the existing formula was continued.