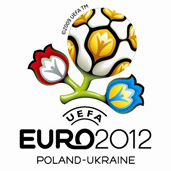 On 1 March online registration of tickets for Euro 2012 has begun and on the same day the UEFA will announce prices, stages concerning the pre-sale of tickets and time of their implementation. Tickets are sold exclusively one the Internet.
Not all seats will be available. Most tickets have been reserved for VIPs and members of football associations. Not less than 1.4 million tickets will be sold for 31 matches, including the opening match in Warsaw on 8 June 2012 and the final match in Kiev on July 1.
Anyone interested, except for those who are prohibited to enter stadiums, will be able to fill in an application on the official website of UEFA – www.euro2012.com.
In Poland first tickets for VIPs were granted during the charity party in Wroclaw. The price of the tickets reached 80.000 PLN. It is believed, however, that tickets for Euro 2012 will be cheaper than the ones sold for Euro 2008. Price reduction may be due to the average salary in Ukraine and Poland.
There is currently no specific information as to the principles of ticket ordering. However there are two methods which are most commonly used in the European Championships or World Championships:
"First come first served "- it is a form of a direct pre-sale. Many people do not support such a system, because due to great interest in tickets sometimes the website crashes, which in fact, leads to the lack of access to online form.
"Fair play" – it is a form of drawing people from registered applications. Then, it is enough to set time frames in which those interested can file applications and then carry out drawing.
The first phase of registration is to be held in March 2011. Selection matches for Euro 2012 will be only at the initial stage when no one, apart from Poland and Ukraine will be sure about promotion for the tournament.
At this stage you can book tickets for all matches of a selected team. Moreover, it will also be possible to book tickets for the quarterfinals, semifinals and finals.