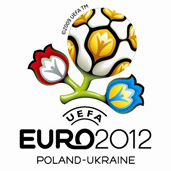 Poles and Ukrainians have serious technical problems, but Italians can relieve them and take over duties of the organizer of Euro 2012 at any time- we read in today's edition of the "Dziennik".
These words were said by
Giancarlo Abete, chairman of FIGC (Italian Football Federation). After Wednesday's match of Ukraine with Italy Abete announced:- Problems of Poland and Ukraine are well-known for us. We are constantly outdistancing them because we do not count on politicians but we do our job- we build stadiums, develop infrastructure. If UEFA appreciates our effort and figures out that Poland and Ukraine won't manage, we will be ready.
Italians maliciously remind us that we asked UEFA for extending terms of stadiums completion. They criticize Ukrainians for Hryhorij Surkis who travels all around Europe and begs for subsidies. Whereas Michal Listkiewicz, chairman of the Polish Football Association doesn't care about what says Italian chairman.- He wanted to be on the front pages because he wasn't there for a long time. Today there is no risk that we will lose Euro. Two weeks ago I met with UEFA representatives. Of course, they pointed out some mistakes to us but generally speaking they were satisfied. I'm not worried. Stadiums in Portugal were put into use 5 months before Euro 2004.