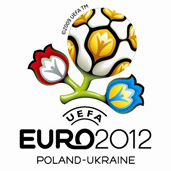 The Ukrainian cities of Kiev and Donetsk are guaranteed to be chosen as hosts for the 2012 European soccer championship and three others discover on Wednesday if they will join them.
UEFA's Executive Committee meets in Bucharest this week to chose the venues for the tournament being co-hosted by Ukraine and Poland.
The cities of Lviv, Dnipropetrovsk, Kharkiv and Odessa all hope to be chosen although the latter two are on Ukraine's reserve list of venues.
Odessa, a port and resort town on the Black Sea Coast, is unlikely to be considered because, despite its tourism industry, the number and quality of hotels is still poor and work on its stadium has only just started.
UEFA president Michel Platini warned the co-hosts last month that six to eight cities would be selected and not necessarily in equal proportion between Poland and Ukraine.
What is certain is that Euro 2012 will definitely be staged in the two countries after two years of often painfully slow progress since they were awarded the tournament in April 2007.
Sports officials and politicians say they want the games split down the middle between Ukraine and Poland.
"I'll say it again: our position, along with the Poles, is in favour of complete parity, equal opportunity," Ukrainian Soccer Federation President Grigory Surkis said last week.
"Even if my colleagues from UEFA offered me a greater number of spots than Poland, I would be the first to refuse them."
LEGAL WRANGLING
Ukrainian authorities have thrown their efforts behind Kiev's preparations after Platini said if the capital failed to modernise its stadium on time, the country risked losing the right to stage the competition.
After a year of legal wrangling over an adjacent shopping centre, renovation of the 83,000-capacity Olympiskiy Stadium has started and is expected to be completed by June 2011.
Sports Minister Yuri Pavlenko said Kiev, due to stage the Euro 2012 final, had a special position as a host.
"All our cities have equal chances, though each has its advantages and drawbacks," he said. "But the capital must be considered separately. There can be no doubt it will be among four cities to be chosen."
The eastern industrial city of Donetsk -home to UEFA Cup finalists Shakhtar Donetsk, has much going for it because the five-star Donbass Arena stadium, which should hold 50,000 fans, is due to be unveiled in August.
The region will stage the Under-19 European championship this summer, which will give it vital experience and has spurred it to improve accommodation and transport facilities.
Eastern cities Kharkiv and Dnipropetrovsk, together with Lviv, a historical tourist city close to the Polish border, will vie for the final two places – if they are awarded to Ukraine.
Dnipropetrovsk was the first city to finish construction of its 31,000-seater Dnipro Stadium, but the capacity is 2,000 short of UEFA's minimum requirement.
SMALLER SEATS
Officials say smaller seats behind the goal will meet the shortage, and an investor-owner for an expanded airport is yet to be found.
Lviv's advantages – proximity to Poland and good tourist infrastructure – may not be enough to get it selected after the authorities' procrastination and bureaucracy in choosing investors and builders for a stadium being built from scratch and an airport to replace a decrepit Soviet-era facility.
Many believe Kharkiv, a reserve city, could push ahead of its rivals. Reconstruction of its 42,000-capacity Metalist Stadium is ahead of schedule and its airport is expected to carry 24,000 passengers a day.