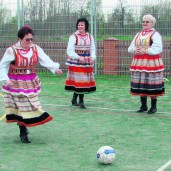 A group of Polish folk-singing grandmothers on Wednesday won the race to choose Poland's official team anthem for the looming European championships on home soil.
The 18-member group "Jarzebina" – Polish for rowanberry – swept aside established opponents including established rock and pop names, a ska band and a rapper with their upbeat ethno-tune "Koko Euro Spoko", which translates loosely as "Clucking Cool Euro".
Poland's football association had opened its "White and Red Hit" competition to all comers, with the list honed down to 10 ahead of a live concert on Wednesday where television viewers were able to cast mobile phone text ballots.
Jarzebina's success follows that of a similar outfit in Russia, the "Buranovskiye Babushki" (Buranovo Grannies), a group of elderly village women who were chosen to represent Russia in the Eurovision Song Contest later this month.
Euro 2012 marks the first-ever edition of the quadrennial football showcase to take place in eastern Europe, with Poland hosting the tournament along with neighbouring Ukraine.