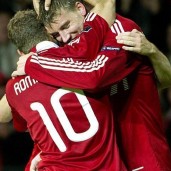 Michael Laudrup, one of the best footballers in Danish history thinks that his national team has a good chance to make it out of the "Group of Death", because it is regarded as the weakest team. "I believe in our dynamite during European championships", he said.
Rivals of Danes in Group B will be respectively: Dutch (June 9 in Kharkiv), Portuguese (June 13 in Lviv) and Germans (June 17 also in Lviv).
"Our team plays traditionally the best when it is a priori regarded as a "loser" and in consequence underestimated by rivals. This is why I believe that we have relatively good chance to make it out of that very difficult group and surprise the audience", said Laudrup in an interview for the daily newspaper "Politiken".
Nevertheless, he emphasized, if the team wants to surprise everybody, the most important thing for them is to be 100 per cent healthy. "It occurred many times that in the national team there were footballers without shape or lightly injured. This time the team must consist of healthy footballers who are to be in their best shape. Everything points to the conclusion that we will have such a team".
Laudrup is also satisfied with the new strategy of team selector Morten Olsen, who has decided to take some young and little known footballers. In his opinion, a team consisting of new, combative and talented players, as well as of some veterans, can deliver a big surprise, like during European Championships in 1992 in Sweden. Denmark won the tournament then, coming as a substitute team replacing the war-torn Yugoslavia, without any camps or training.
"This time we are in so called group of death, but I see it as a dynamite group, maybe Danish dynamite, as we were called at European Championships in 1984 and 1992; that dynamite was also able to explode many times afterwards", said the 47-year old former Danish national team striker. Between 1982 and 1998 he played 104 matches with that team and scored 37 goals.
The footballer didn't take part in the "golden" European Championships in 1992 due to a quarrel with the team's coach Rickard Moeller Nielsen.