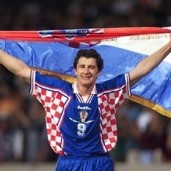 Peter Schmeichel, Davor Suker, or Predrag Mijatović – among others those footballers will be ambassadors of Carlsberg Man of the Match Award given to the best player at the end of eve-ry match at European Championships.
That means that they or other football legends will be present during the tournament in Wrocław for at least three times.
A EURO legend, invited by the UEFA President Michel Platini, will be present at every match throughout the championships. He will decide which player will be recognized as the best footballer of the given duel and chosen to receive the Carlsberg Award.
While making the selection, the legendary footballers will be supported by fans; they will have the oppor-tunity to vote at the UEFA.com. match center and the football celebrity will take into consid-eration the outcome of that voting.
At the end of every match the best player will receive a special statuette handed in by among others Fernando Couto from Portugal, Christian Karembeu from France, Predrag Mijatović from Montenegro, Peter Schmeichel from Denmark or Davor Šuker from Croatia. After hand-ing in the award, the EURO Legend will join the Man of the Match and both of them will answer the questions asked by the media.
"I am delighted that UEFA have selected me to be part of this joint initiative with Carlsberg," said Šuker, named as Croatia's Golden Player to mark UEFA's Jubilee in 2004. "Representing Croatia at the European Championship gave me some of my greatest footballing memories and emotions, so I am looking forward to visiting Poland and Ukraine this summer," added the former Real Madrid striker.