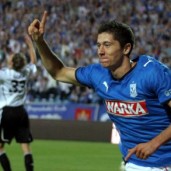 Star striker Robert Lewandowski on Friday criticised Poland coach Franciszek Smuda's decision to axe midfielder Slawomir Peszko from the Euro 2012 co-hosts' squad after a drink-fuelled dispute with a taxi driver.
"Slawomir was fined by his club, and it should have stopped there," Lewandowski, who has questioned Smuda's tactical choices in the past, said in an interview with the Polish daily Rzeczpospolita.
"It makes no sense to have axed him from our team," he added.
Like Lewandowski, who is on course to win a second consecutive Bundesliga title with Borussia Dortmund, Peszko plays in Germany, for strugglers Cologne.
But while fan icon "Lewangoalski" has this week topped the news for scoring the winner in Dortmund's 1-0 victory over second-placed Bayern Munich, Peszko has made headlines unwillingly.
He was detained by German police late on Saturday following a night out.
Lewandowski said he had spoken to his international team-mate about what happened, and pinned the blame on the driver.
"I know what taxi drivers can be like in Germany, and this one seems to have wanted to show he was the boss. My family have had trouble during taxi rides too," he added.
Peszko was fined and suspended by Cologne and issued a public apology, but that failed to sway Smuda, who said he "shook with rage" on learning of the incident.
"He won't be in my team. End of story," Smuda said earlier this week, underlining that he had given Peszko a second chance after drunken misbehaviour following a friendly against Australia in Poland in September 2010.
Lewandowski, who made his Poland debut in 2008 and is now 23, acknowledged that professional footballers had to watch themselves.
"You can't act the fool, but you do need a break from training, to think about something else. It has a good influence. I go to parties. But the art is knowing when you can," he said.
Bundesliga-based Poles make up a major slice of Smuda's squad, and the manager travelled to Germany this week to watch them in action, attending Dortmund's clash with Bayern on Wednesday.
Lewandowski said he took the opportunity to raise Peszko's case with Smuda.
"I told him that the circumstances of Peszko's arrest were bizarre. And one person, that taxi driver, shouldn't have a role in shaping Poland's team for the European Championship," he said.
"I hope that he'll reconsider his decision."
Poland captain and Dortmund midfielder Kuba Blaszczykowski has also said he hopes to change Smuda's mind.