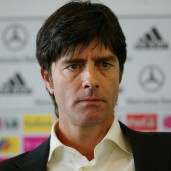 European championship favorite is Spain. Poland is among the group of teams that should gain promotion to the quarter-finals – said in Warsaw Joachim Loewthe, German national team coach.
German coach – just like other coaches of the participants of the Euro 2012 – on Thursday took part in a two-day organizational workshops before the tournament in Poland and Ukraine. Similar meetings are held before all great events. In addition to the coaches there are also team managers, team doctors and security and transport officers.
– Our minimal goal during the Euro 2012 is to "get out of the group". We'll see what happens later on – admitted Loew, whose team went to the B group, being the strongest one in the whole tournament. The German team will face the world runner-up – the Netherlands, Portugal and Denmark.
– Do you treat the match with the Netherlands as the most difficult one? No, because the whole group is demanding. Portugal and Denmark are also very dangerous and interesting teams. Both of them present a similar level. We look forward to the matches and we believe in our capabilities. As I mentioned, the aim is to be get to the quarterfinals. As for the entire tournament, I think Spain is favorite. It is just because it is the current world champion –mentioned Loew.
The German coach did not hide his praise for the Polish national team. He emphasized that every day he is watching three great players of Borussii Dortmund – Jakub Błaszczykowski, Łukasz Piszczek and Robert Lewandowski.
– The Polish team plays better than, say, a year ago and has many well-prepared players, which can be after the matches of Borussii. Its three Polish players represent a very good shape. I include you to the teams that should get promoted to the quarter-finals – said Loew, complementing the major Polish championship stadium.
– On Thursday I was at the National Stadium in Warsaw. It makes great impression, not only from the outside, but also from the inside – he added.
The German Football Federation announced on Friday that the planned friendly match with Israel on June 1 will take place a day earlier at 20:30 Polish time. Due to this, this match will be broadcast on German public television in prime time.