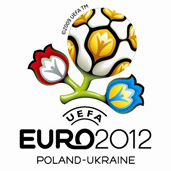 Achievements PR company and ICG spzo under the auspices of the Greater London Authority will hold a number of events in 2012 focused on advertising the 2012 UEFA European Football Championship hosted by Ukraine and Poland. All events will be held as part of the 2012 Cultural Olympiad programme of the Summer Olympic Games on January 1, 2012, to August 1, 2012, initiated by the GLA.
The programme of events has been already included into the Cultural Events Brochure for the Summer Olympic Games. The brochure covers all events to be held in London in 2012 on the threshold of the Olympics. Ten to fifteen advertising events are planned to be organized at best sites of London. Their aim is to draw interest of the international community to Ukraine and Poland, and to encourage a wide-scale arrival of fans to Euro 2012 matches. Outdoor advertising space, parks, central streets, London's top galleries and concert halls will be assigned for this purpose.
The slogan of the advertising campaign will be:
"Begin your sports summer from the Euro 2012 Tournament in Ukraine and Poland".
The campaign's objective is to attract tourists and fans wishing to visit the Olympics to also attend Euro 2012 events to take place on 8 June to 1 July. So, the tournament may become the start of a unified "sports summer" that will end with the London Olympics scheduled to take place from 27 July to 12 August 2012. Eduard Sagalsky, Chief Operating Officer at Achievements PR, says:
"We plan to run really memorable activities that would unite two major sport events of 2012 into an integrated European sport festival. At present, we work at a conceptual part of all our events and we are open for whatever offers from interested parties."