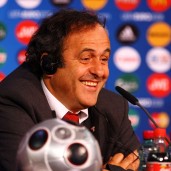 Michel Platini, the President of UEFA, praised Poland and Ukraine for the way they prepare for the championships, which are to be held on June 8. He added that the tournament would be the economic incentive for both countries in times of financial crisis.
Platini said that the Euro 2012 would be a "great festival of football and would open up many opportunities for sport in its difficult time". He also added that he was impressed by the efforts the inhabitants of both countries had put in preparation of the tournament. He mentioned that the decision of choosing Poland and Ukraine as the organizing countries had been a good decision.
– In April 2007 in Cardiff UEFA took a very important decision on choosing those countries as the ones that are going to organize the tournament, even though they did not have the chance to manage such important events. After years of efforts and struggles with different problems, I am convinced that we have achieved our objectives and the Euro 2012 will be held in good conditions – said Platini.
The tournament starts on June 8 and ends on July 1. The Polish national team will play in the group with Greece, the Czech Republic and Russia.