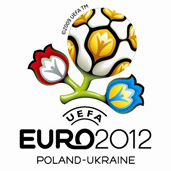 Warsaw (dpa) – Poland's Ministry of Transport Thursday said roadworks ahead of the Euro 2012 football play-offs were on target, denying claims to the contrary made by road construction experts.
On Monday, Polish experts insisted the country was nearly 13 billion dollars short of the 47 billion dollars it needed to make the country's derelict road network ready for an influx of football fans for the Euro 2012 playoffs.
"It may be a flop because the government thinks we'll build all the roads using EU funding, but this isn't possible," the head of the National Chamber of Road Management (OIGD), Wojciech Malusi, told reporters.
In all, the European Union has pledged some 16 billion dollars for highway construction in Poland to 2013.
"All the activities are going according to schedule," Poland's Deputy Minister of Transport Boguslaw Kowalski said Thursday in Warsaw.
According to Kowalski, infrastructure investments ahead of the Euro 2012 playoffs in Poland totalled 41 billion zloty (15 billion dollars).
EU funding and Polish public works spending would cover the entire price tag, he said.
Top priority highway improvements, including the north-south A1, west-east A2 and south-west A4 would be completed by 2011, the official vowed. "The majority of the priority tasks are already under construction," he said.
Lawmakers in the conservative government of Prime Minister Jaroslaw Kaczynski were also working on necessary legislative amendments to speed-up public works investments ahead of the Euro 2012 play-offs.
Aside from the funding shortfall, OIGD experts have pointed to a wide range of obstacles to road construction in Poland, including inadequate management of the national highway grid, legal hurdles as well as a shortage of materials and labour.
According to OIGD calculations, over the next five years Poland needs to build 960 kilometres of highway, 2,738 kilometres of express lanes and nearly 4,000 kilometres of national roads to bring up to date its crumbling and dangerous communist-era road infrastructure.
Current highway construction does not exceed a few dozen kilometres per year.
In April, UEFA chose a joint bid by Poland and Ukraine to host the Euro 2012 football final.