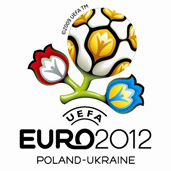 Olympic Stadium built in the interwar period is a stadium proposed by Wrocław in the official offer of Poland and Ukraine on Euro 2012.
According to conception of stadium conversion it is expected to reach capacity over 40 thousand seats and is expected to be a part of sports center, with a swimming pool, a sports hall, a shooting range, tennis courts and also shop centres and gastronomic centres.
Below you can see graphic symbols of Olympic Stadium after planned conversion.
Organizers of the European championships make plans for playing some group matches in Warsaw.
But after granted organization of championships to Poland and Ukraine authorities in Wrocław addressed building project of a new stadium for Euro 2012. This stadium would be located in Drzymaly Street in the part of city called Maslice. There are no projects of stadium so far, and possible realization of this conception depends on the possibility of obtaining by the city additional funds (a new stadium is estimated at over 100 mln EUR0).
So an issue concerning the choice of stadiums in Wrocław where the European championships matches would be played stays unnegotiated.