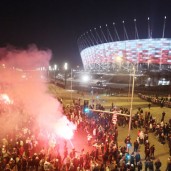 Euro 2012 draws nearer and nearer and the atmosphere around the match between Poland and Russia is getting more and more nervous.
There is more and more talk about Russian fans who announce "maximum of activity" during the tournament; on the other hand, publications in Russian newspapers have been warning of "big brawls". Are Polish security forces ready to ensure a peaceful course of the tournament? I opinion of Polish Minister of the Interior Jacek Cichocki, they are "prepared for the worst."
Russian national team, crowds of fans and… Smolensk demonstration
The Russian national team will be staying during EURO 2012 at the Bristol hotel in Warsaw that is situated in the direct neighborhood of Polish President's Palace. In the course of the tournament many Russian fans will surely be coming to Warsaw's downtown district called Krakowskie Przedmieście in order to support their team with a loud cheering. Also Russian journalists will be present there.
At the same location, on the 10th day of every month, the so called "Smolensk demonstrations" have taken place for two years. People who critically assess the course of investigation concerning the catastrophe of the plane with Polish president on board gather in front of President's Palace bringing with them banners with slogans such as "Putin – a murderer", or inscriptions in English "Has Russia killed the Polish president?", "What happened on April 10, 2010? We demand an international investigation".
That demonstration will also take place on June 10, 2012. It can arouse a special interest of Russian fans and journalists gathered in the same street, since it will be held two days before the very important match between Poland and Russia. That match, played in the National Stadium in Warsaw will be watched by many officials, among others by the Russian president Vladimir Putin who will be sitting in one of the VIP boxes.
"Location of Russian national team headquarters at EURO 2012 is also a problem for the Polish security forces," admitted Minister of the Interior Jacek Cichocki at the conference on Tuesday concerning security issues during the tournament.
Russians are aware of the existing situation. "We have been suggesting them some solutions, that could restrict prospective events impacting the atmosphere which is not too good," added Cichocki, but without revealing any details concerning those matters.
Russians announce "maximum of activity"
Within the last few days there was lots of information in the Polish mass media concerning football fans of Zenith Sankt Petersburg and Spartak Moscow who are going to come to Poland to watch EURO 2012 matches. According to the "Ogoniok" weekly, they announced their "maximum of activity" during the tournament.
"We have whole arsenal of pyrotechnic devices that will be used by us in Warsaw and Wrocław stadiums. We manage to smuggle them through cordons of Russian police, so we don't think cheating the Poles will be a problem. Besides, you can buy firecrackers and flares in Warsaw. It will be a real fire show," revealed an anonymous Spartak Moscow fan.
Oleg Mosfilmowski, the chief of Spartak fan club also joined the discussion, stating that "based on experience from the latest match with Legia within the framework of European Cup, we can tell that the attitude towards Russian fans in Warsaw is negative."
After EURO 2012 groups draw, when it turned out that Poland and Russia will be playing in one group, the "Moskowskije Nowosti" daily warned that "UEFA received a match at the highest level of explosiveness," and the meeting on June 12 "can end with serious brawls".
How does the Ministry of the Interior treat that kind of announcements?
"We don't have any information concerning the fact that a group of Russian fans are coming to Poland with the sole aim to confront Polish fans. I know that similar announcements appeared on Russian Internet forums, but no information of that kind have reached us by "branch channel" yet", admitted Minister Jacek Cichocki.
"When we receive such information, we will contact our Russian partners and do our best to prevent such fans from coming to Poland," he promised.