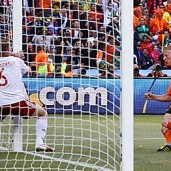 In the first match in Ukraine, one of the favorites of the whole tournament will meet the strong Danish team. The Danish can seriously endanger the Oranje national team; they take the 9th position in FIFA ranking, have won their elimination group by outrivaling Portugal and at Euro, they will surely be in very good condition.
Morten Olsen's team wasn't lucky at group draw and was placed in the group of death. The Dutch, however, will play at Euro for the highest stakes and their goal is at least advancement to the finals. The crucial matches in this group will be the final ones, but no team can afford to lose points and a nervous atmosphere from at the very beginning of the championships.
Denmark have nothing to lose; if they are defeated, nothing happens, but they will surely use all their strength and struggle to score every goal and get every point possible. In this duel the mid fielders Wesley Sneijder and Rafael Van der Vaart will play an important role and Jan Klaas Huntelar, a Schalke Gelsenkirchen striker will take care of goals. Results of first matches are sometimes surprising, but I think that in this case, a surprise is not possible.
Bet: Netherlands can win with 2 goals.
Netherlands – Denmark Betting Odds
| | | | | | | |
| --- | --- | --- | --- | --- | --- | --- |
| Netherlands win | 1.57 | 1.44 | 1.60 | 1.65 | 1.57 | 1.55 |
| Draw | 3.60 | 3.75 | 3.80 | 3.75 | 3.75 | 3.95 |
| Denmark win | 6.50 | 6.00 | 5.75 | 4.80 | 6.50 | 5.75 |
| Sign up bonus | freebet 100£ | freebet 25£ | bonus 20€ | bonus 30€ | freebet 60£ | bonus 50£ |
Group B
Our bet: Netherlands win
Match: Netherlands v Denmark
Stadium: Metalist Stadium, Kharkiv
Time/Date: 19:00 9th June 2012