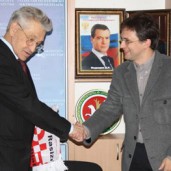 Members of the 'NEVER AGAIN' Association held meetings with authorities and civil society leaders in several cities across the Russian Federation between 26-30 September 2011. They discussed future cooperation and exchange of experiences in the struggle against racism and xenophobia in the lead up to the 2018 World Cup to be held in Russia.
Among others, they visited Kazan – the home of FC Rubin and a 2018 World Cup host city – where they were received by the leaders of the Parliamentary Civic Chamber of the Republic of Tatarstan including the Chairman of the Chamber, Il'giz Khairullin. The meeting at the Kazan Kremlin was scheduled for 40 minutes but extended to more than 2 hours of friendly discussion about issues of multi-culturalism and xenophobia.
Members of the 'NEVER AGAIN' Association also met with the leadership of the Assembly of the Peoples of Tatarstan, including key leaders of the Kazakh, Georgian, Uzbek, Vietnamese, Russian-German, and Udmurt minority communities. They also met with the heads of the Jewish and Bahai communities in Kazan, the NGO Azamat, and with the Centre for Study of Discrimination, Extremism and Xenophobia in the Republic of Tatarstan. They also discussed grass-roots cooperation with the Kazan Federation of Mini-Football (Futsal), which is to result in joint activities with the Assembly of the Peoples of Tatarstan for this
year's Football Against Racism in Europe Weeks of Action in October.
-'I appreciate the exceptionally warm welcome we received in Kazan and the high level of discussions we had here' – said Dr Rafal Pankowski of the 'NEVER AGAIN' Association, coordinator of the East Europe Monitoring Centre set up in cooperation with the FARE Network and UEFA. – 'Tatarstan is a unique example of a dynamic multi-ethnic society where diversity is valued. There is a lot we can learn from each other.'
The 'NEVER AGAIN' Association is an independent educational and monitoring organization established in Poland in 1996. Since 2009, 'NEVER AGAIN' has coordinated the FARE East European Development Project supported by UEFA in the run up to EURO 2012 in Poland and Ukraine. 'NEVER AGAIN' has set up the East Europe Monitoring Centre documenting racism and xenophobia across the region.